Company
Cottali Srl is one of the largest Italian manufacturers of handles; with 45 years in the market, is now present in more than 50 states throughout the world.
Continual technological innovation has allowed the company to constantly remain and grow in the market. The promotion of handles exclusively Made in Italy makes the Cottali brand both well-known and in demand.
The wide range of decorative elements and accessories, with an excellent quality-price relationship, also allows Cottali to be present in the market of mass distribution.
In addition, remember that the excellent relationship with the clientele is the basis for the success of this company.
Personalized Handles

Cottali is able to provide handle grips with personalized logos.
Handles are also made with crystal inserts based on the client's design.
Shipping also in 24hrs
Thanks to its large warehouse full of finished handles ready for delivery, Cottali is also able to ship your order in 24hrs. from your confirmation.
A continual Search for innovative Materials and Systems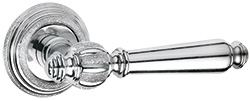 The quality of our handles is also expressed through the materials and the finishing processes continually developed by our company.
We make handles with engravings, incisions and finishing in gold and silver.
Post-Sales Service
Our sales staff is available for every need or requirement, from the choice of model to instructions on how to mount our handles.